The Mobile Single Item Sorter (SIS).
Scan product barcodes directly with the Smarter Sorting mobile app and receive instructions tailored to your business needs. Instantly access donation pathways, disposal recommendations, and crucial product safety information on any mobile device.
The Retail Single Item Sorter (SIS).
Our fully integrated technology provides complete transparency into your retail operations. Instantly process returned, damaged, or unsold products instantly with our complete scale, printer and scanner system. Decisions and handling instructions are automated and easy to understand for back of store personnel.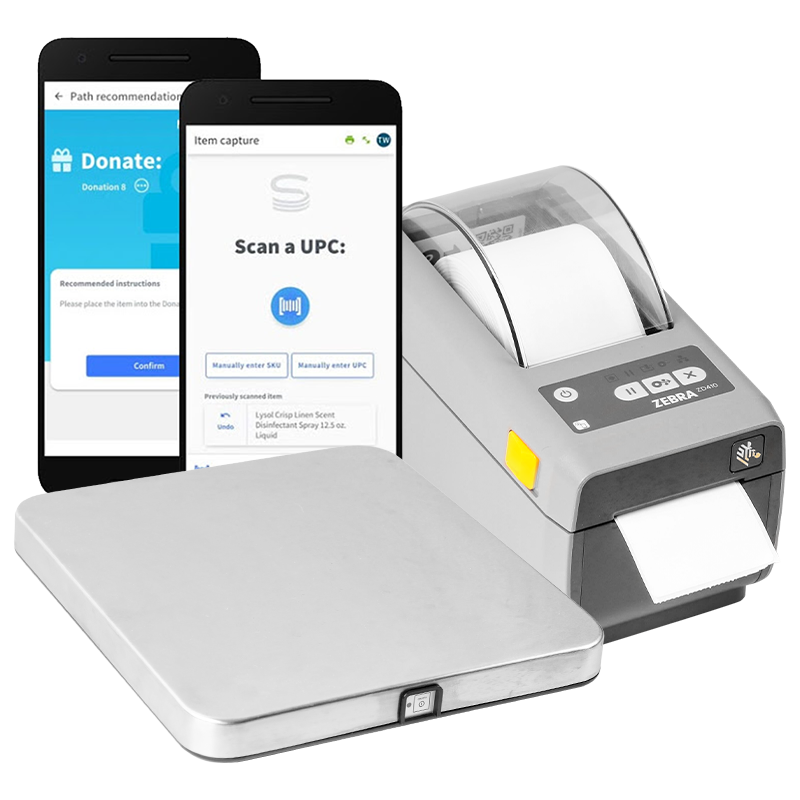 Better Disposal.
The most compliant and sustainable disposal pathways are identified for regulated products, so items can be diverted from the landfill whenever possible.
Better Donations.
Donations are verified and tracked so ensure all eligible tax write offs are claimed, and items are reaching those who need them the most.
Better Safety.
Safety Data Sheets and OSHA information are available for your products instantly at the touch of a button in the event of spills or accidents.
Smart Pickup
Smart Pickup is changing how retail hazardous waste is handled. Through an exclusive partnership with US Ecology, retailers now have access to an automated solution for identifying, segregating, and classifying hazardous and non-hazardous items in the back of stores.
Smart Pickup relies on our TruckSIS technology to give retailers and haulers more visibility into their hazardous waste streams. Reduce service frequency, streamline pickups, and ensuring safety and compliance from start to finish.
Clear communication with regulated waste haulers so pickups are quick and streamlined. Transparency into on site waste generation for sustainability and accurate reporting. Ensured compliance from start to finish for worry-free waste management.